A Noha and Aweel majlis was held at Badri High School on 18th August 2017 at 10 am.
At 9:45 am Amil Saheb of Al Mohalatul Burhaniyah Janab Shabbir Bhai sahib accompanied by Abnaul Jamea stepped into BHS greeted by the cries of Ya Husain by the Pre primary and Primary students who stood in lines to greet him.
Zakereen of the school and students led Janab to Qaatul Quran in a procession where the room was packed with students of classes 5-10 who were performing pur josh matam. The majlis began with the students reciting Surat u Shams, Surat ul Iklaas, Surat u Naas and Surat ul Falaq in unison with Tarteel and Tajweed.
As the majlis progressed, the students wept copiously at the heart wrenching Marasiya of Imam Husain AS. The Principal of Badri High School Shaikh Hashim bhai Saifuddin led the students to pledge that they would attend all Ashara Majalis by coming before time and by performing Noha and Aweel as per the Rida of Maula TUS. They pledged to bring their parents and family members with them too.
Janab Amil Saheb asked any student to volunteer to recite the shahadat of Maulana Abbas AS and Qusai Amir of class 8 recited the shahdat with such detail and in such a moving manner that there was not a single dry eye and the sound of wailing resounded in the entire building.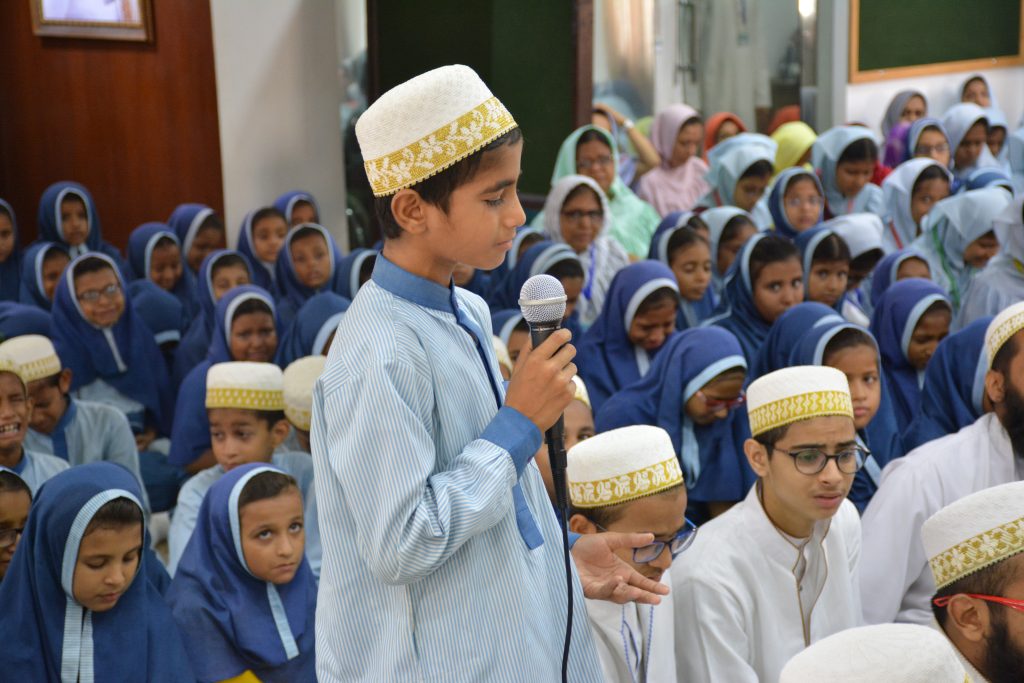 At the end Aali Qadr Mufaddal Maula's TUS priceless bayan was heard and the students performed matam in circles. Janab Amil Saheb, Ben Saheba as well as Jamea Asatiza and Talabat Talebaat who attended the majlis appreciated the Ikhlaas and devotion of the students of BHS and were very impressed.